MailPLuginFix

MailPluginFix is a free tool which will help you to fix any incompatible Mail.app plugin (GrowlMail for example) after an update of Mac OS X.
---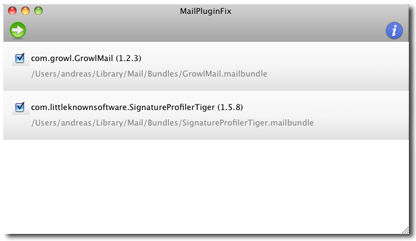 Just start the application and you will see a list of all incompatible plugins for your current Mail.app installation. Just select the ones you would like to fix and press the start button in the toolbar. All selected plugins will get patched with the UIDs of the current Mail.app version and also all disabled plugins will be enabled again.
---
Requirements
Mac OS X 10.6 or later
Works only with plugins installed in the user library folder. If you want to fix a plugin which is installed for all users you have to move it to ~/Library/Mail/Bundles first.
---
Changelog
Version 1.3.0 - 21th September, 2016
Added support for macOS Sierra. Important: macOS 10.12 is a major update and many mail plugins are not yet compatible with the new Mail.app. Before trying to fix a plugin check for an official plugin update and don't forget to backup!
Added toolbar button for opening the Mail library folder.
Fixed info window width.
Version 1.2.2 - 13th July, 2016
Fixed a problem with the Apple code signing.
Version 1.2.1 - 12th July, 2016
Update is now using a secure HTTPS connection.
MailPluginFix is now signed with a developer certificate from Apple.
Version 1.2.0 - 9th October, 2013
Added support for OS X 10.9 Mavericks. Please note that at the moment some plugins are not compatible with the new Mavericks Mail.app. If the plugin is not fully working after using this tool you will have to wait for the official update of your plugin.
Added error handling for non modifiable Bundle directories.
Fixed detection of running Mail.app.
Version 1.1.0 - 21th June, 2011
Added Mail.app info panel
Added online update using the Sparkle framework
Minor bugfixes
---
Donate
If this tool was helpful for you we would appreciate your donation to support our coffee consume: