Virtual Voodoo Halloween Update
Posted on October 23, 2009
After a long time in the approval process the update for Virtual Voodoo finally arrives in the App Store!
Just in time for Halloween we added a highly requested feature to Virtual Voodoo. The new version 1.2.0 let you take photos of your Voodoo doll creations.
Press the camera menu button to start the photo countdown and try to get your doll in a good position. These photos can be saved in your camera roll and you can send them to your friends to do real Voodoo! Great fun for Halloween!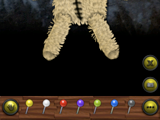 This update will also bring you some performance improvements! Now you can put more pins into the doll while retaining a high frame rate (especially on the 3GS).